Dental Social Media
Here at ProDental Multimedia we take pride in developing custom Social Media Solutions for our dentist.  A significant percentage of human race is on social media these days whether it be Facebook, Twitter, Instagram, Snapchat, LinkedIn , etc. Approximately 1.9 billion people use at least one social media platform and below you will see the average monthly active users for each platform.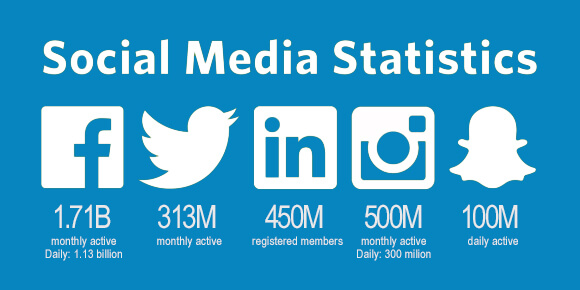 These platforms are literally where everyone and their grandmother makes posts, take pictures, videos, checks in, recommends a business or person, or rants about a current situation to their entire group of friends all the time. Think about it this way say you see 50 patients in a day and lets say at least half of them tag your dental practice or post about you on a social media platform. For Argument's sake let's say each person on average has 900 friends. 25 posts times 900 friends = a potential audience of 22,000 people in one day who could potentially see how happy their friend was at your practice or on the flip side how sad or frustrated they were. Actively participating in a social media strategy is extremely beneficial for the practice that can take the time to do it right.
Social Media Optimization is very important for an educational, informative and engaging online presence. Today, there are more forms of online marketing than with that of traditional marketing. Social Media Optimization can impact visitor action and brand awareness for your practice. At ProDental Multimedia, we aim to help businesses complete their online strategy by providing technical expertise and advanced level integration, coupled with a social marketing strategy
Facebook, Instagram, Twitter, Linkedin and Snapchat are the most popular social media sites. A lack of presence on these social media websites is no longer an option for businesses. Quite frankly, your website visitors will expect this presence, especially the millennial demographic. Take a look at your waiting room virtually everyone is on their phone and you need to be there to capitalize Our Social Media Optimization provides comprehensive account set-up and design customization options, including a broad range of marketing campaign services that will help you manage and grow your networks on these communities.
With an ever-growing list of social media tools available, we work to establish which technologies work best for individual campaigns. Different Social Media Platforms cater to different audiences and for that reason it is important to have a unique strategy for those platforms.
Social Media Projects ProDental Currently Offers:
Facebook Page Development
Facebook advertising management
Facebook Live Consulting
Custom Facebook Application development
Facebook Remarketing
Instagram Page Development
Instagram advertising management
Twitter page development
Twitter advertising management
Custom Hashtag Creation
LinkedIn page development
Linkedin advertising management
Google+ page development
Pinterest page development
FlickR page development
Youtube page development
Video submissions and proper tagging procedures to YouTube and other video websites
Applying Dental practice Social Media Marketing
Post regular, engaging content to social media sites
Monitor social media sites, reputation management, and regular engagement with followers
Integrate social media sites with Dental website