Dental Search Engine Optimization
With 70% – 90% of your local patients going online first to find a dentist, periodontist, orthodontist, or oral surgeon, can you really afford to miss out on that much of your market?
Our organic search engine optimization for dentists puts you where your new patients are searching for a dentist first: at the top of Google and other search engines. That's why we offer custom SEO solutions for dentists, because we know one size does not fit all.
With over 17 years of search engine optimization experience, no yearly contracts, customer service and support that is unparalleled within the industry, you will see why we have established ourselves as the affordable online solution.
One of a kind.
Ethical.
Guaranteed.
What is Search Engine Optimization?
Organic search engine optimization is the positioning of your dental website at the top of major search engines like Google, which has major control over the search market. By using only ethical standards of optimization, we put you in front of the thousands of patients that are searching for a local dentist each month.
Learn more about our Affordable Programs!
How Does Search Engine Optimization Work?
Let's assume that you are living in the Miami area and searching for a new dentist. You're likely to punch in terms like: Miami Dentist, Dentist in Miami, and Miami FL Dentist.
Your potential patients are doing this exact same thing, searching for similar keywords and phrases in your location. As a matter of reference, those three keywords combine for over 29,000 searches per month!
Our experienced SEO consultants work to place you where you need to be – at the top and directly in front of those thousands of monthly patients.
Learn more about our Search Engine Optimization Programs!
SEO vs. Other Offline/Print Marketing
One of the questions we are most often asked is how search engine optimization relates to other forms of marketing that utilize direct mail, TV commercials, radio, and other traditional platforms. In 2017, odds are heavily stacked in favor of search engine optimization.
The cost per patient acquisition when it comes to search engine optimization, on average, is up to 50x less than traditional offline marketing. For a direct comparison, compare SEO to direct mail. Direct mail averages about 9x the direct customer acquisition cost that search engine optimization does.
To put those numbers in real life terms: if you spend $5,000 on a single direct mailout (a low price by most accounts), bringing in the same number of patients through SEO would cost you as little as $556!
What's critical to remember about offline advertising is you are doing just that – advertising.
Think about the thousands of people who would see your large, shining billboard. Though this seems effective, you don't know for sure that those seeing your billboard are actually potential buyers. You need to be present for the moments when people are actively searching. They are coming to you. When you rank first with a potential patient with a toothache in a Google search, that potential patient with a toothache will click on you first!
Let's say that the same $5,000 that allowed you to send a direct mailout to 3,000 recepients enabled you to have access to 3,000 patients on Google. That direct mail campaign will average about a 1% return rate, if the local marketing isn't already saturated. 1% equates to about 30 people calling you back. It would be up to you to turn them into patients. Conversely, those 3,000 people you target online through organic search are ALL searching for exactly what you offer.
So – would you rather have 30 potential leads or 3,000 active leads who need a dentist now?
Click Here To Get Started Today!
---
The SEO Strategy
Search Engine Optimization (SEO) is the science of searching as it pertains to a particular website. It constitutes adjustments and modifications to a website in order to make the site rank higher for particular search terms with the purpose of increasing traffic to the website. Search engine optimization and page rank cannot be a short-term goal. An on-going strategy is necessary in order to get to the top and remain at the top.
Our Dental SEO program combines programming with logic and business strategy.
It is more than just placing meta-tags and links on a website; it is a blend of many variables. Each search engine uses complex algorithms to analyze these variables, algorithms which are constantly changing. Accomplishing your goals with search ranking can be very challenging without the help of experienced SEO experts in the field of dentistry. At ProDental Multimedia, we offer experience and proven success with this process.
We utilize experience and on-going strategy development to achieve desired results.
ProDental Multimedia will custom-prepare your dental website for performance on targeted searches. Optimization work involves site code preparation, title tag development, meta-tag insertion, link building and fixing, alt tags, hand submits, and other proprietary techniques. Please be aware that our approach represents a complete solution, and implementing only certain pieces of the proposed strategy may not yield optimal results. On the other hand, we also strive to provide the most flexible solution possible for our dentists. For that reason, we have tried to break out the possible steps you can take to optimize your dental website so that each step will add significant value to your website, regardless of your decision to implement the others.
The SEO Project Description
The initial optimization work involves researching the best dental keywords to place on the site. After the website has been prepared with the search engine criteria, we will then engage in the process of hand-submits directly to the search engines. After the website has been submitted, it can take up to 3 or 4 months for the site to be well ranked within search engines. This is when we will attempt to have a complete post-optimization meeting detailing your positioning in top search engines and triple check that we are all on the same page with our efforts for you. Results can be detected as early as 2 weeks in some cases.
Because SEO involves on-page and off-page factors, it is critical for our dentists to understand the complete picture and lines of service distinctions.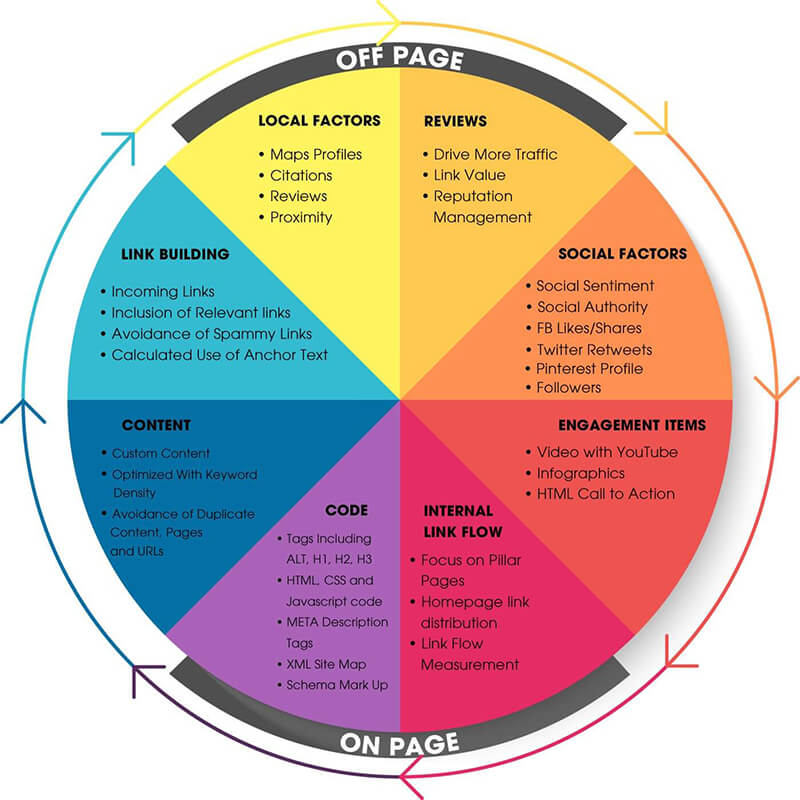 The harsh reality for every successful website marketing campaign is that they require ongoing search engine optimization services. Why? Generally, the main reason is due to the competitiveness of the keywords being targeted. Logically thinking, if you're optimizing your website to remain competitive, so is your competition. The difference is in the quality of the website SEO, which should achieve the desired goal of a higher, more stable ranking than your competition. If you want to win we can help you.
Search engine rankings may fluctuate due to any of the following reasons, which make it necessary to have a monthly maintenance package:
Search engine algorithms keep changing with time as they improve.
Algorithm changes can affect both rankings and website health; they would need further fine-tuning and treatment of the site to restore or improve the rankings and overall performance of a website.
Search patterns and buying behavior of people change with time.
Market shares of search engines change.
Ongoing SEO can also be attributed to other factors, such as:
Continued to strive for a higher position
Continued to strive for total site stability (which helps reflect algorithm changes)
Ongoing marketing campaigns to broaden branding and exposure
Ongoing performance reporting and analysis
Ongoing page tweaking for ultimate results and stability
Regardless of how strong SEO is, no SEO controls the search engines, nor has the secret to them.
When the search engines do a major shake-up, generally so do all the rankings. However, there are constants that can be performed on a continual basis to help reflect algorithm changes. This is the exact reason developing link popularity is important. The more quality links you have, anchored around the web, the more stable your site will become and will move as required with algorithm changes. Sites disappear and move when search engines conduct major updates; though, the sites with quality content and stable link structures tend to return and take up their original positions. Without ongoing SEO, sites can tend to slowly decline in the rankings. Why? Because your competition is continually attempting to rank above you, and as such, will slowly push your website off page 1, page 2 and so on.
Maintenance services are meant for websites that already have completed their SEO set up, and have search engine rankings. The main goal is to increase positions on the search engines for better engagement by potential dental patients.
What Is Included with the SEO Maintenance Plan?
Ranking reports

There will be many fluctuations in your search engine rankings. This may be due to search engines changing their ranking formulas, or competitors trying to get ahead of you. More sites are added to the web each day so you need to monitor your search engine rankings to be competitive. We provide you with quarterly (and on-demand) search engine ranking reports for the maintained website(s) which outline improvements and drops in search engine rankings.

Traffic reports

It's essential to know where most of your traffic is coming from so you can make adjustments to your marketing strategies. For example, if most of your traffic is going to one particular page, you may want to place your best products on that page to get more sales. We analyze your site's statistics to check how much traffic you are receiving, where is it coming from and what keywords are being used to find your site.

Keyword research

Web sites are being added to the web every day, therefore keywords that once got high rankings may no longer work. You may have high search engine positions for your most important keyword phrases but if you are not receiving any traffic from those phrases, you will need to evaluate the keywords that you have used. Attaining a page 1 ranking for keywords that no one searches for will not increase your traffic. Researching new keywords is essential to maintaining good rankings. We analyze the current keywords used on your site and then research and add new ones. Once the keywords have been chosen, the content is updated to reflect them. This may include subtle changes to the meta-tags, page titles and text headings; or, it could involve adding additional sections to the site, rewriting content and reorganizing the web site's structure. It all depends on the specific requirements of the site and the market. New pages may need to be added as new technologies or changes to practice focus come into play. These pages can be written entirely by us for additional cost or written by the practice and tweaked by ProDental for no cost.

Competitive analysis

An integral part of search engine optimization is determining what keywords your competitors are ranking for. We analyze where your competitors are currently ranked for the same keywords you are using for your web pages. We also check how many competitors you have for each of the major search engines. If there are too many competitors for a particular keyword it may be better to use less competitive keywords for your web pages or use them in conjunction with the most popular ones. We will also analyze the link popularity of your competitors to determine how many incoming links they have and what the quality of those links are. You should not link to unrelated sites but ideally link to sites that already attract a lot of traffic.

Adding fresh content

Web sites that continuously update and/or expand their content usually experience higher rankings than stagnant websites. This will help boost your traffic and rankings because visitors will have more ways to land on your site based on the keywords they entered in the search engines. There are many options for providing new content to your website, from creating a blog system to providing us content to add. ProDental can even write the content for you. If there is content or news you wish us to add on your behalf, we will do this for you as part of our maintenance plan. If you wish us to write the content, then we would do so at our normal hourly rate.

Web copy analysis

Getting a lot of traffic to your site does not guarantee sales. It primarily depends on how effective your web copy is. We analyze how your web copy is structured on the page, what words you use, if it is written for good SEO rankings or not and make recommendations about necessary changes.

Tweaking website structure and navigation

If visitors are having a difficult time navigating your site, reading the content or are experiencing broken links, we will attempt to repair the site to make it more suitable for your visitors. For example, we may add drop down navigation schemes to your website as part of the SEO maintenance if we believe that it will increase rankings and improve usability. Or we may discuss adding new content to the home page via an AJAX module that would be minimally intrusive.
Want to discuss search engine optimization options for your dental website?